Wedding Reception Photography Trends
Look at the different photography services we offer at wedding receptions. We assure you that we won't take much of your time.
Classic Groom Portraits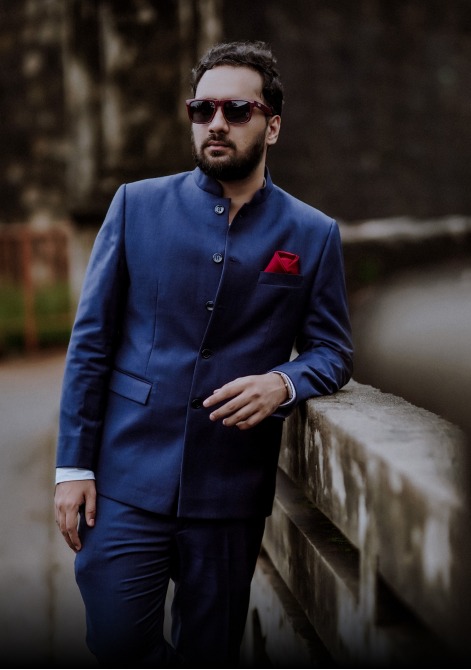 Graceful Bridal Portraits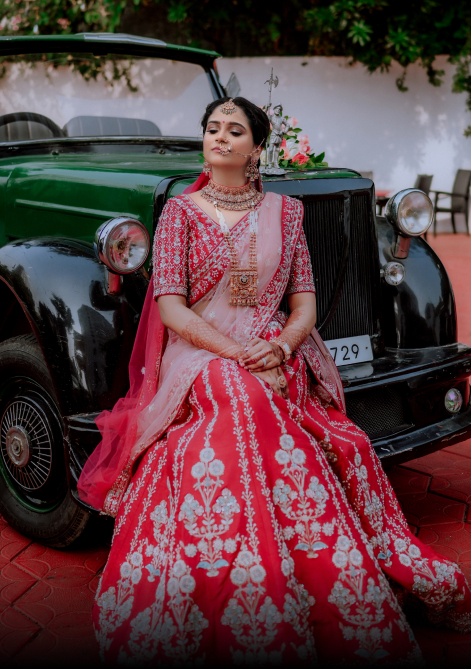 The Reception Rituals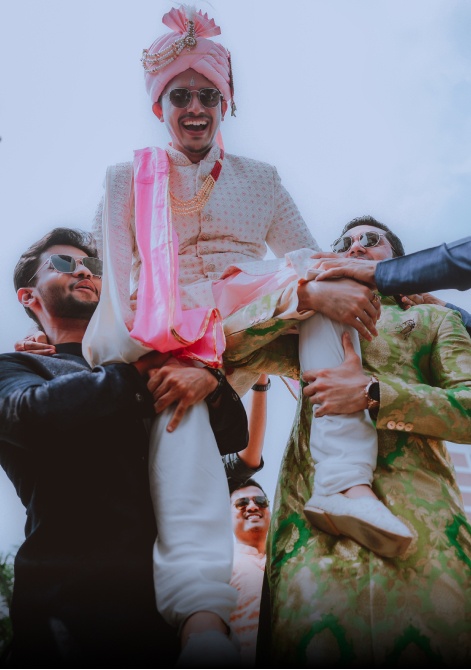 The Reception Celebrations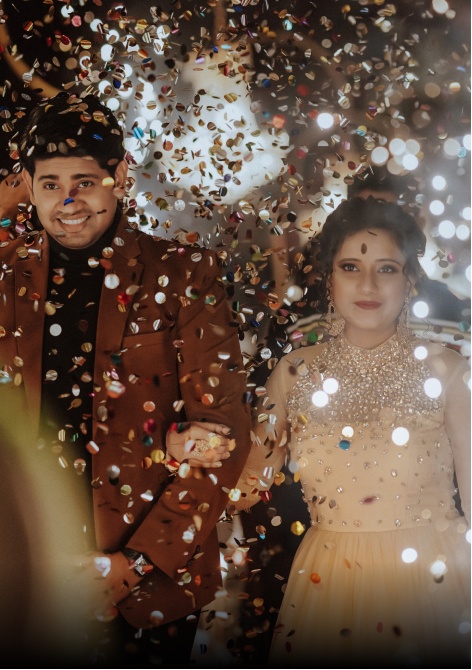 From extravagant preparations and mood boards to outstanding locations with exquisite themes, Indian weddings are all about celebration and joy. As two souls come together in union, the families and relatives indulge in this pious occasion and get to share moments with their loved ones as well. These are capture-worthy moments and the best wedding photographers in Bangalore can curate these moments into memories you can cherish forever.
From big fat Indian weddings to weddings that you wish to celebrate only with your loved ones, Picture Quotient can bring out the best moments through skilled photography and frame them for you. Our studio is in Bangalore; however, as an innovative group of skilled photographers, we have had the opportunity of shooting weddings across India.
Indian weddings are rich in rituals and as the bride and groom take part in these rituals, beautiful and eccentric moments of devotion, commitment and laughter are captured through the variegated emotions and expressions of the bride, groom, and both families. By curating the best wedding photography in Bangalore, we help you celebrate one of the most important days in your life.
Whether your marriage location is a banquet hall, near the beach, or in a homely environment, to add that personal touch, we seize moments into pictures that bring out the best parts of the wedding day. Our high-end cameras and equipment are installed in convenient locations, while our professional photographers work hard to ensure the best moments are seized into pictures.
Our Wedding Photography Services Include:
Traditional Photography
Weddings are quintessentially about traditions. Our wedding photographers in Bangalore understand the importance traditions carry in our lives and know the accurate capture-worthy moments.
Our cameramen have worked in this field for years, attending hundreds of weddings and events. They understand the angle which would bring out the best of traditional weddings and aim at not only capturing the traditions but also the emotions these traditions bring out in the bride, groom and both families.
Candid Photography
Candid moments have their beauty and essence, and no amount of staged shoots can match up to them. At Picture Quotient, we do our best to capture candid moments that can be etched into your wedding albums for years to come.
Every moment is precious during a wedding, so we try our best to capture them through candids for our clients. Besides, candid pictures have a natural quality that is unparalleled. It is this unparalleled quality and naturalness that is beautifully shot by our crew throughout all days of the wedding.
Pre-Wedding Photography
Pre-wedding shoots help couples bring out their fun side and experiment with different angles and backdrops. We bring out the best shots of the couples that they can use as a slide show during receptions or in albums.
We know pristine locations in Bangalore that are best for pre-wedding photoshoots, and make the best of the location to bring out those perfect pre-wedding shots. The couples get the opportunity to get comfortable with the shoots, bring a new mood board to the pictures with their attires and build a rapport with our crew as well. It makes our journey easier when we start with a wedding photoshoot in Bangalore.
Post-Wedding Photoshoots
Post-wedding photoshoots complete the picture and add a flavour to the photos from pre-wedding to the wedding ceremony. This is the first time the bride and groom pose as a married couple, ushering newer and richer meanings to their marriage.
We specialise in post-wedding photoshoots and help you treasure the best moments. With Picture Quotient by your side, on the most eventful celebration of your life, you will not miss a single moment of love, happiness and laughter.
Why Choose Picture Quotient?
Budget-friendly
Whether it's a simple wedding by the beach or a huge one with all the glamour and glitter, we are flexible and offer a package that suits your requirements and budget.
Our packages are categorised into three basic categories, such as basic, premium and standard. Depending on your requirements and budgets we can customise packages and make you an offer you can't refuse!
All-Inclusive Approach
Everyone dreams of an ideal wedding, and we often come across pictures or albums that make us want something special and, exactly along those lines. Our wedding photographers in Bangalore have the required experience to capture similar shots that you are looking for and curate a wedding album you can cherish forever.
We are open to suggestions and client requests and will put in our best efforts to make the most of the wedding photoshoots in Bangalore. As we become a part of your memorable wedding, we seize moments that count.
Personalization
At Picture Quotient, we work on a client-first approach. Your wish is our command! We don't enforce our fixed packages on our clients and dedicatedly work on the client's requirements. If you are looking for only videography we can provide that. Alternatively, if you want us to only
take a static picture of your special day, we will create a customised package that fits your needs and requirements.
Everyone plans for their wedding from an early stage and wants everything to be on-point and picture-perfect. Therefore, with Picture Quotient by your side, you can expect the deliverables to be just as you want them to be.
On-Location Shoots
Whether it's a destination wedding or an indoor one, we have got it covered! Depending on the location, we will do the wedding photoshoot in Bangalore professionally. If it's a destination wedding, we take good shots of the place to bring an aesthetic vibe and flavour to the pictures. Alternatively, if the wedding is indoors, we make use of the decor and surroundings in a manner that blends with the subject's focus.
With Picture Quotient beside you on your special day, you can ensure your destination wedding is fulfilled and you get the best pictures! If it's a banquet hall, you can rest assured you will get the best pictures, with a nice backdrop.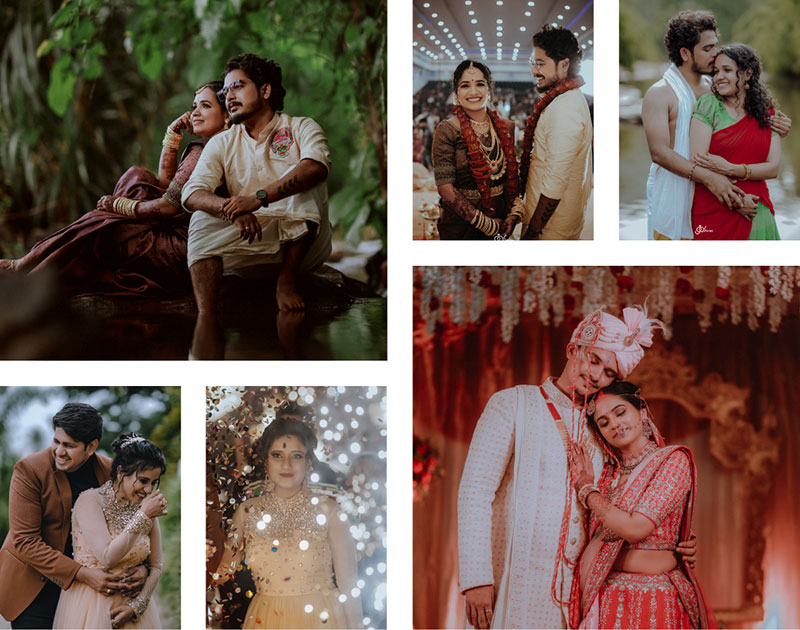 Our Portfolio
As you walk through our stunning portfolio, you will get a sense of the level of effort, innovation and professionalism we put into the task. Having attended several weddings and events as professional photographers, we help people relive their best days through our lens.
We aim at reflecting the tradition, culture and spirit of celebration that weddings echo through our work. We love meeting and working with new people, and bringing forth their stories, expressions, and emotions through our photography at Picture Quotient.
Packages
Picture Quotient will make your wedding day special and help you travel through memory lanes as we have the best wedding photographers in Bangalore to capture moments you can reminisce about forever.
FAQs
How to choose the best wedding photographer?
The best way to choose a wedding photographer is by checking their portfolio and considering whether they have a fixed package or a customized one.
Can I hire wedding photographers who will only do videos?
Yes, while some photographers work in packages, some agencies can agree on shooting only videos for a wedding. Picture Quotient shoots only photos, videos, both photos and videos as per the client's requirement.
If I opt for a wedding outside Bangalore, what are the photography rates?
The rate in this case depends on the location. Once the client confirms the location, the final rate can be decided.
Can I expect a fixed manager for my wedding photography?
We will assign a manager who will look over the entire team of photographers and guide them so that you can get the best shots.
If my budget is not too high, can I still opt for Picture Quotient?
Picture Quotient has three packages, but we are also open to customizing our packages for our clients, depending on their budgets.
1 Million+
Happy faces captured